A lawyer, a United States Marine, a minister, and a Buddhist walk into a bar. There must be a punch line and I don't know it! The answer is Bob. Bob was all four of those. He recently passed away at age 93. Bob was unknowingly a role model of mine. He lived a life well lived, says Gillian Randal.
He proactively chose his life and his death. Bob knew what he wanted and took action to make it happen. He engaged life deeply, and thoughtfully, as written on the back cover of a book of his sermons.  Bob was a leader in the many local and national communities to which he belonged.
Uncle Bob was the only person I knew who openly and peacefully disagreed with my father, who at times, could be a bully. It was fascinating to watch the two Bobs (my dad was also a Bob) face off. They were both veterans of war, a few years apart in age, married to sisters, and yet politically, they were as far apart as possible.
Bob and his three sons discussed and disagreed openly on many topics, something that was unheard of in my family. A few times I witnessed the stern and fair, dad appear. I listened to them debate Watergate, Vietnam, and the Red Sox.
Bob and Dorrie, his beloved wife, were different than my parents. Dorrie was my mom's only sister, who passed away too young and still vibrant, at age 72. Bob and Dorrie were true partners. I thought they were cool, at least from my perspective as a young girl. They respected each other. Their houses were clean and never cluttered or filled with old junk and antiques, like mine. They had a colorful decoupaged living room table that required you to sit on the floor. My family was more formal.
Bob was ahead of his time. Back in the 70s, he worked out of the house. There was some mysterious aura to the office from the kids' point of view. Maybe because it was the one place we couldn't play.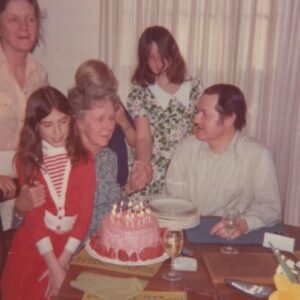 I felt like a princess the times I visited them when they briefly stayed in Concord MA. The home was on lots of land, and featured many rooms, tall ceilings, a Gone with the Wind-type staircase, a music room, and a fireplace in most rooms. It was nothing like the small 1100 square foot ranch I called home.
After attending a handful of church services where Bob spoke and lead as Unitarian Minister in Wellesley, MA, I felt a sense of wonder and beauty. He was thoughtful, loving, and an intellectual. He was called an 'activist minister' He marched at Selma, fought the draft. There are many more instances of Bob taking action to correct an injustice.
Bob was an identical twin. His twin took on a similar, but different, path. Instead of becoming a lawyer, his twin became a medical doctor. Instead of a Protestant minister, his twin became a Catholic priest after being married many years and raising lots of children. I wonder if there is any other family that has identical twins who were a lawyer and doctor turned minster and priest?
Whether out of family duty or who knows what, Bob is a rare subscriber to my newsletter who regularly responded over the past 20 years. He would reply with comment or observation and always sending love. I appreciated that.
I saw the joy that Bob and Dorrie had with each other. My last visit to their house in Vermont was when I drove my grandma, Dorrie's mom, there. I was smitten by how cute they were. They had a nightly habit of sharing a martini in the bedroom together. I could hear the muffled sounds of them laughing and talking. I imagine if I told them I saw them as cute, Dorrie would laugh, smile, and crinkle her nose and Bob would smile, radiate joy, and scoff.
My last meeting with Bob was with his son Stuart and my husband for lunch in downtown Burlington, VT. I don't remember anything other than it was an enjoyable meal and it ended as all my interactions with Bob did, with a hmmm, that's interesting, I'll have to consider or think about that more.
Bob being Bob, he was a humble role model and inspiration to many. Simply by being himself, Bob taught me more than he would ever know. He showed me that there was a different way to be and opened the door to questioning life. Sadly, it was not until he passed, and I wrote this, that I understood the positive impact that he had on me.
Many of us have tears of gratitude for Bob. 
Who in your life inspires you and how?