What a joy it was not zooming on Thanksgiving.  Despite Thanksgiving being all about gratitude, it can be fraught with challenges.  Here's my Thanksgiving lessons.
Active toddlers prevent those nasty family squabbles that fester for years. Import babies or toddlers if you must (dogs might work here too).  Having a high energy one year old who engaged and charmed everyone, smile and laughter abound.  There were 13 adults who felt it was their job it was to keep him safe.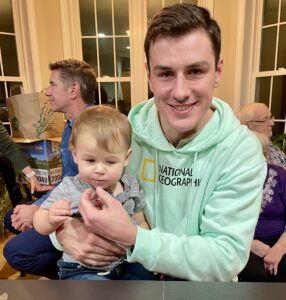 Know when to hand over the reins.  Being the bossy controlling person I am who tries to insert gratitude everywhere, makes me the Thanksgiving speaker who everyone must listen to before eating.   This year while I started, my mother in-law took over.   She had rearranged the seating cards to sit next to me and grabbed my arm as I started talking.  I stopped.   She beautifully reminded us of my parents who were with us two years ago on Thanksgiving and had since passed.
Know when to be bossy and when to accommodate.  It almost didn't happen.  There's lots of people scared to get out.  Unsure.   Uncomfortable with their circumstances. Last year one branch of this family had a mini covid hot spot.   I stepped up my firm and insistent (some say pushy) voice of, I want you here.   I spent 3 hours in urgent care the day before getting a rap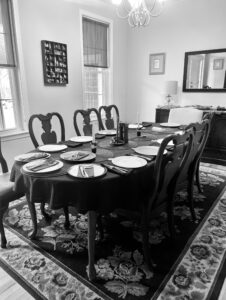 id covid test.
Know when to sit back and enjoy.  I love preparing and planning for Thanksgiving.  It's an excuse to get the house really clean, cook, try new recipes, and pull out all the special stuff (crystal, dishes, linens) and drink champagne.   I easily log over 10K steps.   The food was abundant and amazing, it was a cumulative effort of many.  At the end of the meal those at the kids table (those 30 and under) jumped up and took over the cleaning.  As I sat down, a deep feeling of gratitude seeped into my body.
Have you taken our gratitude survey yet, on leaders at work?  Click here.
Star works to inspire leaders to act and implement business appropriate gratitude processes, behaviors, and skills into their leadership style, teams and cultures.