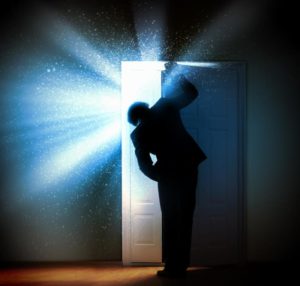 I was happily evicted. My only eviction notice arrived a few days before Thanksgiving.  I was shocked and trembled.   I've always paid my bills on time and worked at getting a good credit rating.  Was it a midlife crisis or the wild child in me breaking out?
I attribute my eviction to what I teach.   I believe in walking my talk.  After stressing about the eviction notice for a few days I realized it was exactly what I wanted and became ecstatic.   I could give up my downtown office and move into my new home office!   I had gotten clear on the outcome I wanted, an useable office – and I now had it.
I had repeatedly reached out to the landlord to discuss, without success, the unusable office situation. So when I was expected to pay an unexpected office-related bill, I didn't pay it.  That is exactly the kind of thing I teach – to be proactive, get clear on the desired outcomes, and take action.   The biggest stumbling block of many high-achieving managers I work with is inaction due to the lack of details and data – not knowing the exact outcomes and how to get there.  Happily evicted is not how I envisioned it playing out nor was I sure of all the facts as I trudged forward.   I ended up with results better than I imagined.  I walked my talk.
The office rental management company wanted an extra $300 for summer A/C usage.  I guessed this wasn't legal or fair for many reasons (including wording in a lease).  In addition to the office being too hot, there were other reasons the office was unusable, such as guys carrying guns in the hallway and never enough available bathrooms.
After months of communicating by email and phone I was served an eviction notice – pay now or be gone in 7 days.   After days of all-consuming stress, I happily chose to leave.  Bottom line, I didn't hire a lawyer, didn't get obsessed with the details.   I got clear on my desired outcome – a usable office – and repeatedly took action toward that outcome.   I saved thousands of dollars in an uncompleted lease and exited a bad situation.  I now can work in my jammies and am more productive.  In celebration I donated some of the unpaid rent to charity. I got the results I wanted, not in the way I envisioned, and took action without knowing all the details.
Knowing how to exit a situation, a relationship, a project, or job is a skill of successful leaders.
Leaders choose to enter or create situations, relationships, jobs, and projects that will advance a vision.
As one door closes (or is left ajar) another more productive door opens. When did you exit a situation that turned out to be good and you didn't think it would be?